Description
Iran is one of the best countries for growing pistachio varieties.
Pistachio is the most well known and popular member of the Nut family that is abundant in Iran. So, Iranian pistachio is the most popular pistachio in terms of taste and type.
First-grade pistachio nuts from one of the high-quality domestic producers.
Pistachios Nutritions
Calories: 159
Carbs: 8 grams
Fiber: 3 grams
Protein: 6 grams
Fat: 13 grams (90% are unsaturated fats)
Potassium: 6% of the Reference Daily Intake (RDI)
Phosphorus: 11% of the RDI
Vitamin B6: 28% of the RDI
Thiamine: 21% of the RDI
Copper: 41% of the RDI
Manganese: 15% of the RDI
Types of Pistachios
The most famous varieties of pistachio are:
AHMAD AGHAEE(Long)
Ahmad Aghaie Pistachio is also one of the best quality pistachio nuts in Iran. It has a large size.
Ahmad Aghaei's pistachio has a green shell that stays red when it arrives. On average, each pistachio is 2 cm long and 1.2 cm wide, indicating that the pistachio species are very large. It comes in sizes 20-22, 22-24, 24-26, 26–28  and 28-30 nuts per ounce.
This type of pistachio has a rectangular appearance and its brain is purple.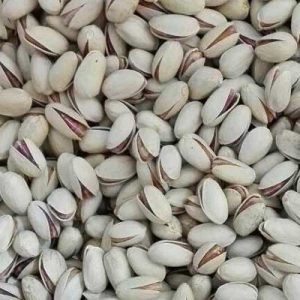 AKBARI(Long)
It is the most luxurious and large type of pistachio in Iran, although it has a higher price than other types.
Each pistachio is about 22 mm long. The elongated texture of the pistachio fruit is rectangular in shape and the bony skin of this fruit is dark creamy.
Each Akbari pistachio weighs about 48 grams on arrival. If dried this pistachio weighs about 1.5 grams.
Available sizes are 18-20, 20-22, 22-24 and 24-26 nuts per ounce.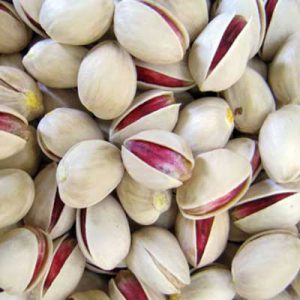 FANDOGHI(Round)
This type of pistachio is smaller in size than the other three types. Despite its size and size, it tastes great.
Each FANDOGHI pistachio weighs about 2.48 g at harvest or ripening, reaching 0.976 g when dried. The average length of FANDOGHI pistachio is 18.24 mm and its width is about 11.73 mm.
The FANDOGHI pistachio also has a diameter of about 11.66 mm, which is a considerable diameter. This description indicates that the diameter and width of the fruit are approximately equal, which may be effective in rounding or twisting the fruit.
It comes in the following sizes: 26-28, 28-30, 30-32 and 32-34 nuts per ounce.
KallehGhouchi(jumbo)
One of the largest pistachio varieties in Iran. The size of this pistachio is unique in its size and taste. It has a round appearance and is classified as round pistachio.
Available sizes are 18-20, 20-22, 22-24 and 24-26 nuts per ounce.
The average weight of each KallehGhouchi pistachio is 3.9 g and 1.45 g in dried fruit, respectively. And the brain of this type of pistachio makes up 56 percent of the fruit's weight.